THESE TRIPS WERE GREAT -THE JACARANDA WAS LIKE PURPLE NEON. CHECK BACK IN A MONTH FOR TRIPS IN  2011.
Trip the lights fantastic in Paris of South America

November is spring in Buenos Aires. The broad-canopied jacaranda trees burst into magnificent bloom, carpeting streets, parks, and plazas, in glowing lavender blossoms. The city called "Paris of South America," for its European culture and spectacular French & Italian Renaissance architecture, never looks finer. The weather is warm and lovely then. This  nine-day trip includes a fun side trip to nearby gaucho country and plenty of time in Buenos Aires, the city that never sleeps.
WHEN: November 5 to November 13, 2010 –
Price $1,775, or $1,275 for doubles (rooms have twin or double beds).
Trip #1 includes all this (click here).
Trip #2, very similar, runs November 16 to 24, 2010 and is ALL Buenos Aires.
Reserve with $500 or Pay in full. If you want to pay by check, email me for the address: ocaramia@earthlink.net or ocaramia@mac.com.
OPTIONAL EXTRAS: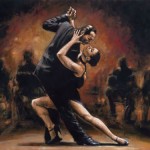 • I'll arrange your airport (Ezeiza) pickup and dropoff ground transportation with a bilingual driver—$70 total.
• If you'd like to take the writing workshops and the yoga or get an extra tango lesson – we can arrange both for nominal fees.
• If you'd like to do some horse riding in San Antonia de Areco, it can be arranged for a nominal fee.
• If you'd like Spanish lessons, private classes are very affordable; I can arrange them for you with great teachers.
• My first days in Buenos Aires I hired an occasional "taxi" dancer (for a nominal fee) to accompany me to tango dance halls and dance with me only. If you'd like, we can arrange that–for either men or women.
• It's good to arrive at least a day before the trip starts–and consider staying longer than 9 days. If you want other lodging options, I'll give you a list, once you're a registered participant.
• If you are interested in side trips around Argentina (or anywhere in South America) I can refer you to two reliable local travel agents (from whom I accept no commission) to put together a trip for you.