Watch tango the way it was born
Here's a primer for the nouveau-arrive, the casual observer yet-to-be-schooled in this fine art. Tango aficionados will recognize these venerable dance halls. Be sure to read TIPS below.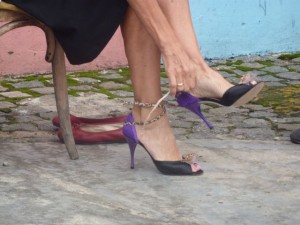 You are coming to Buenos Aires the birthplace of tango. Que barbaro!-that's local slang for How far out! You can spend upwards of $100 to see show tango (also called fantasía tango), with its fancy tricks, costumes, and highly choreographed routines. Strolling around San Telmo, Recoleta, or La Boca barrios, you are sure to stumble upon street tango, also designed to impress tourists. But, best of all, for 10 to 15 pesos (about $3 to $5), you can also see the dance of lovers the way it has evolved in halls and salons in its true improvisational mode.
Many of the grand old orchestras-Carlos DiSarli, Osvaldo Pugliese, Juan D'Arienzo, Anibal de Troilo, and Rodolfo Biagi, to name a few-played in these very clubs during tango's Golden Era (1930s-1950s roughly). Todays tangueros, many of whom recall the old masters, still dance to their music today. Most of the halls are atmospheric and old. You'll sit at linen-covered tables around the periphery of the dance floor and watch legs fly in a voleo (a fan kick) or ochos (figure eights) as two bodies with four legs sway and dip as one
Milongas are what Argentines call the dance venue (milonga is also the name of a style of dance in tango). Walking into a milonga is like opening an oven door. The vibes and sound of crying violins and weeping bandoneons envelop you like a wave of heat. There are more than a hundred milongas, big and small, many listed in the ubiquitous Tango Map guide, available at most hotels. (Other useful guides include El Tangauta, La Milonga, and B.A. Tango.)
Milongas are all over the city in safe and sketchy neighborhoods, in residential, commercial, and downtown areas. This list includes nine of the best at which to sit and watch-or try the dance if they've had a few basic lessons. They are centered around the downtown area where most visitors lodge.
BEST MILONGAS FOR BEGINNERS OR NON-TANGO DANCERS WHO WANT TO WATCH
Confitería La ideal, 384 Suipacha at Corrientes, Mon. (3-10pm), Wed. (3-8 pm), Thurs. (10 pm-3 am), and Fri (3-8 pm) – Climb the marble stairs in this old salon to a spacious hall with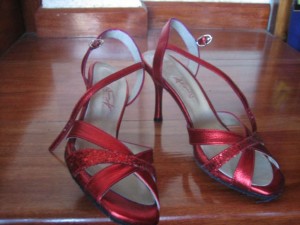 dark wood panel, beveled mirrors, ancient chandeliers. This is where Madonna danced tango Evita. For those who don't care for the late night milongas, La Ideal's afternoon one is lively and superb. Thurs. evenings features a live orchestra-such as Los Reyes de Tango, Color tango, San Souci, Original Tango, and the Sextet Mayor. Check the schedule while you're here
Club Gricel 1180 La Rioja at Humberto Primo, (Mondays, Thursdays, and Fridays, 9pm – 4 pm) – This is a great place to watch the thin stilettos of all those nine-centimeter-high Comme Il Faut shoes (one of the tango shoe hotspots) writing ocho (figure eight) on the wooden floor. It gets crowded. But as local conventional wisdom goes, if you hang out til after 1 am, the floor opens up. Patricio and Adriana are the hosts-if you like her outfits, she'll give you a flyer with info on where to buy them, with a 10 percent discount.
Porteno y Bailarin, 345 Riobamba near Corrientes, (Tuesday, 10 pm to 3 am). The brightly painted interior is one of the "see and be seen" milongas that foreigners frequent as do a clutch of old-time milongueros, including Danny Flaco, virtuoso of the milonga (the dance), who looks like a cross between Joey Bishop and Sammy Davis Jr. Indeed, he sits, along with his Rat Pack of friends, at their table right on the edge of the dance floor, where they can watch There are two floors separated, like a bent elbow, or an L-shape.
Salon Canning, 1331 Scalabrini Ortiz at Cabrera, Sun. (3pm – 11 pm), Wed. (3pm – 11pm) Tues. (11pm – 4 am) and other nights—check the guides. Four Greek columns mark the entrance to Salon Canning, which celebrated its golden anniversary in 2006. The hall is a mandala with lots of air and a high ceiling-a resolute understanding of the value of negative space (at a premium in Buenos Aires). A glitter ball spins and four speaker boxes hang in the cardinal directions. In the hipster Palermo barrio, this warm orange- and gold-painted hall features a beautiful square wooden floor and an enlarged photo mural painting on one wall with some well-known people in it.
El Beso, 416 Riobamba at Corrientes, (Tues., Wed., 11 pm – 3 am, Thurs, 6pm til 12 a.m., Sat. 11 pm-4 am) -This small but elegant milonga (its name means "The Kiss") has black lights glowing on men and women staring across the small dance floor at each other. Watch and listen closely here as dancers whisper Que lindo (How beautiful)! at the end of the song as they stare into each other's eyes.
Niño Bien, 1462 Humberto Primo, Thursday 10 pm – 4 am is the BIG night, but there milongas on Monday, Friday, and Saturday—check the tango guides. Niño Bien has a lovely airy interior with lemon-yellow walls, large oblong floor, and stage. You can show off your fancy outfits and not feel out of place. The lighting is romantic. What a sight to see the men and women empty the packed floor and scurry back to their seats when each tanda (a series of three or four songs) is over. The cortina (a short piece of music) signals when to "Sit Down." Watch people scan the room for whom they will lock eyes with next. The energy is very high, very Buenos Aires. Don't miss the Niño. Bring some air kisses.
La Nacional,1465 Alsina. This venerable salon just reopened after a closure of more than a year. It's in a seedy area, but in classic architecture and beautiful inside with the upgrade; the dance hall shouts yester-year grandeur. It used to have carnivalesque atmosphere but that seems to have gone away with the renovation. You can watch dancers literally slip around on the polished wooden floor. There are all levels of dancing here as many foreigners like to test their skills on this floor before venturing into other salons.
Sin Rumbo – 6157 J.P. Tamborini, (11pm to 4 am, Saturday), In the 1920s at the Buenos Aire's Hipodromo (horse track), a man bet on a horse that was such a long shot its name was Sin Rumbo (without course). The horse won and the man decided nothing was worthier of his money than a tango club. Sin Rumbo, in the renowned Villa Urquiza barrio that lends its name to a style of tango, is about a 20-minute taxi from downtown, in the same spot for more than 80 years. Locals love to tell you that this is where Robert Duval learned to dance. It's quite beautiful and it has a real "barrio" feel.
HELPFUL TIPS or TO KNOW BEFORE YOU GO:
• Most milongas are divided into seating sections for men, women, and couples. When you arrive it's best to let the host or organizers seat you in the proper section.
• Dress is casual to costume-ish-some dancers like to put on the Ritz. For others, comfort demands simple outfits. Dress jeans may be acceptable, sneakers almost never.
• The cabaceo, the nod of the head, is the traditional way men invite women to dance. Today, you may see a lot of dancers ignoring this venerable ritual, but most still honor it. Also, it's common for the woman to initiate the invitational nod. (So, unless you intend to dance, watch where you put your eyes!)
• All milongas serve food, generally a simple menu of empanadas, sandwiches, pizza, salads, antipasto, wine, beer, and other spirits.
• Make reservations if you want to be guaranteed seating for your party. Phone numbers are listed here and are also in the guides. Times may vary from the schedule, so call to confirm.
• Most dance halls feature a lesson an hour or so before the milonga starts-call ahead if you're interested but be sure to inquire about the level, especially if you're a beginner. You don't need to bring a partner.
If you hope to dance, bring your best cabaceo-you will need it as much as you need your dancing shoes.