From Tango, an Argentine Love Story By Camille Cusumano


It's a Friday night in late September when I decide to go to the milonga at Salon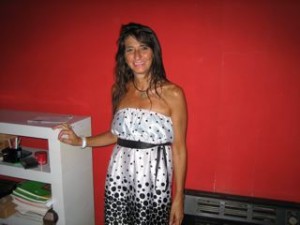 Canning. Every time I sit down after dancing, I feel something like a loving jolt, so intense is the tap on the back I keep getting from a woman I've never seen before. At first, I'm annoyed, since it means I have to turn away from the altar of dance and the potential invitations that await me from men in the wings. I'm still a novice at the art of cabeceo, still practicing how to sculpt my facial features just so-to look neither desperate nor dismissive, to project a certain nonchalance mingled with a suspicion of interest. Posture is critical; you keep your chin up, your line of sight constant, and peruse faces at a slow, even pace, ready to stop on a dime. At any moment Mr. Right (for the upcoming tanda) could solidify out of the sea of poker-faced milongueros, his eyes twitching out in code, Shall we dance? Interruptions stall the crucial process of concentration.
But I do get past the abruptness of her affection and we have an immediate rapport. Her name is Patricia Jacovella, and I'm hardly upset by the praise she lavishes upon me. "Wow, you dance beautiful! Your feet hardly touch the ground. My God, how lovely! Where did you learn? How long have you been dancing?"-she doesn't wait for answers-"¡Qué lindo!"
Upon discovering I'm from San Francisco, she switches to her impressive Queen's English, peppered with colloquialisms-"In a nutshell, you're the best!" Her voice is rich and unrestrained, pleasantly grainy, her every phrase saturated with laughter and smiles. It's not unusual for Argentine women to stop me to briefly compliment my dancing, a gesture I greatly value. But this woman is over the top. It would have been easy to dismiss such a bubbly person as disingenuous, but we had chemistry. Later I'd realize that I'd been chosen by Patricia, that she'd felt some genuine animal magnetism that I couldn't acknowledge until I was able to stop being dismissive of her attempts to talk to me.
Patricia's Italian on her father's side and has an uncanny resemblance to my equally effervescent niece, Patty Rose, who has smiley Irish eyes from her father's side and darkly sensual features from my sister's. Patricia's only Irish blood, I later learn, is by conjugal association-her thirteen-year marriage to a gaucho.
I've been dancing all night, mainly with Salvatore, who coincidentally is part Sicilian. I've spent the greater portion of the night at Salvatore's table because I don't have a reservation and the hall is crowded. We speak in Italian, his second tongue, which is still better than my Spanish.
Patricia, recklessly affectionate, invites me on the spot to visit her in San Antonio de Areco, Argentina's gaucho central, two hours away by bus to the northwest of Buenos Aires. "You must see it," she swoons. "Here's my phone and address." Salvatore agrees I should go and says, "I will drive you." It's a generous offer, but I ignore it. I'm not sure I want to see him outside the milonga.
"Sure," I say to Patricia, "some weekend . . ." allowing my voice to trail off, imagining she doesn't expect me to accept her invitation. But I do email her. After all, I barely know anyone. And over the course of the next week Patricia encourages me to call her Pato, and we deepen our acquaintance through emails, studded with many exclamation points. Her friendliness proves as genuine as it is infectious. It's not until getting to know Pato that I realize how sorely I need girlfriends. Besides losing my best male friend, Dan, I've left many close girlfriends behind in Northern California, not to mention that I feel far removed from my five sisters, who all live on the East Coast.
When she reextends her offer to come visit her, I'm enticed as much by the prospect of making a real friend as getting out of the big city for a weekend. My feet need a break, as do my lungs-the city ban on smoking in enclosed public places doesn't go into effect for another couple of weeks yet.
Two Saturdays after meeting Pato, I head to the Retiro bus station to catch a ride to San Antonio de Areco. The Retiro has the vibe and excitation of an airport and evokes the thrill I felt as a kid in New York City's Port Authority and Penn Station. After weeks of struggling to keep my sense of purpose afloat, I'm delighted to be reminded: I was born to travel. It's a rush to be pulled along by the throngs-families from the provinces and young international globetrotters traveling on the cheap. Give me the roar of the engines, the screech of brakes, the smell of the crowds, and I'm home.
Chorizo-shaped (proper feng shui for a terminal), the station spreads at least a quarter-mile long on two levels with shops, cafés, 206 ticket windows, and double-decker buses coming and going, amazingly near schedule, into more than 75 stalls, including several for the disabled. Wearing my two-sizes-too-big cargo pants and my JanSport backpack, I squeeze anonymously through packs of people, unemployed and industrious. Orange-vested policía, alternately daydreaming or vigilant, mill around New York-style vendor booths that line the sidewalks for several blocks leading up to the station. The vendors sell everything from sequined thongs, workout togs, plastic watches, and kids' cartoon stickers to deodorant, batteries, girlie magazines, and Coney Island hot dogs (called Super Panchos). The air smells of mustard and pizza. There's a shoe shine man and the glass case of a full-service butcher festooned with fat links of sausage and heavy with purple hunks of Argentine beef, organ meats, entrails, and blocks of aged cheeses.
The buses depart along the backside of Retiro, past the villa miseria, or slums (similar to Rio de Janeiro's favelas) of dirt-poor people, including some cartoneros, scavenger families who pick the city's trash clean of cash-worthy recyclables each evening from six to nine o'clock. As my bus departs, I note many lines of colorful laundry strung from cracked-brick-and-concrete balconies and between roofless walls. A dog scarfs up castaway food near one of many rusted, windowless, wheel-less autos. Adolescents wearing backpacks walk with purpose down the dirt street.
Soon the bus is rolling along the banks of the Río de la Plata, with ocean-size views to the horizon that remind me of San Francisco's Embarcadero. Fishing poles lean against a stone embankment, their lines cast into the muddy waters by anglers nowhere to be seen. In the span of an hour and a half, the din of city life seems worlds away. While I love living in cities, I also know how important it is to get away from them. I've been missing the escape from their deafening din and frenzy into the salutary country air.
I wait on the green at the edge of town studying the stone bust of an eternal cowboy, Victorino Nogueira (1895-1971), with his Stetson hat and neckerchief. A line drawing of gauchos on a cattle-drive covers a ceramic-tile mural, as simply and naively etched as France's Lascaux cave paintings.
Peering down the grid of streets lined with neat stone, brick, and stucco homes fronted by little gardens, cacti, and black iron gates, I feel the allure of San Antonio. I sniff the unmistakable lure and romance of Argentina's heartland even before I stroll the town park, cut by the lazy Areco River, with its historic Martinez Bridge, Stonehenge-like benches, and gangly ombú, which Pato insists "is not a tree, it's an herb-its roots grow aboveground." Tree or herb, it is as iconic to the pampas as the baobab to the African savanna, the organ-pipe cactus to the Sonora desert.
A small red car pulls up to meet me at the curb of the bus station and Pato's vivacious "Hellooo! ¡Bienvenida a San Antonio de Areco!" breaks my reverie. I hop in.
"So much to show you-La Bamba and Ombú. Oh, and we'll go to the gaucho museum tomorrow. Tonight is a folklorico festival at La Peña. Sure you want to go. Let's drop your bag at the hotel."
"Qué energía," I laugh, as excited about getting to know Pato better as her turf.
"You must be hungry. We'll have lunch. Surely you like parrilla-grass-fed Argentine beef."
"I prefer the blood of vegetables," I tell her, "but I love it if you love it." I say this to warn her that I don't consume animal flesh the way the average Argentine does, but before she can chew on that, we're on Lavalle Street and she's jumping out of the car so we can drop my bag.
"Here's your hotel," she says, already out the door.
El Balcón Colonial, the Andalusian-white hostelry with its three rooms on the second level, all fronted by a terra-cotta-tiled balcony, is so small it looks like a private home. My room is cozy and unadorned but for beige lace curtains. It has a double bed, two single bunks, and a private bathroom. For sixteen bucks a night it's quite a steal.
We drive down the quiet tree-lined streets, with townsfolk cycling on heavy clunkers. At one corner, Pato points to the architecture of two homes, one being more elaborate Italian-style with "gingerbread icing" (stone ornament) and columns, the other more traditionally Spanish. Both are striking, and having been made aware of the architecture of the town, I now note the ubiquity of ironwork and arched windows and doors throughout town.
"San Antonio was established in 1730. You can see dwellings up to two hundred years old still standing," Pato narrates. I love that the town doesn't look renovated beyond its original character. A number of buildings are quite faded, the weathered coral stone etched with spidery cracks.
"And this one here," Pato points to a mottled-pink brick structure skirted with unsightly galvanized steel, "is an original adobe undergoing restoration. It's going to be a pub some day, if it ever gets finished." A few blocks away is the main plaza, Arellano, that fronts the town's namesake church. The pretty San Antonio church was built to honor Saint Anthony of Padua (who supposedly saved the town settlers from the Indians, who are all but gone). The plaza is inviting with its many trees, plant-filled urns, and gazebo. It's near artisan shops with leather and woven textiles and ateliers where silver is hand-forged into some of the finest jewelry, belt buckles, utensils, and maté gourds. We visit the workshop of Gustavo Stagnaro, who has spent the past year making a five-hundred-piece set of silverware and oak and silver glasses-service for forty-for $170,000.
"Such sensitive designs," I note. "How sweetly un-macho."
Pato tells me that her cowboy ex-husband wrote poems. "He was charming but hard," she says. They are still friends. She talks of him as I might of Dan, as if they may get back together in old age. Since her divorce, she has been teaching English and Spanish. Her primary business, though, is a guide operation called Living Your Spanish, and I can't help but think that there's no work she'd be better suited to. She takes me down a long, bumpy country road to Ombú, a fifteen-minute drive outside of San Antonio, where we run into Oscar, an old horse breaker with a whisk-broom mustache, who tells us he's had five fractured bones, mostly ribs. Someone shoots a photo of us, with Oscar huddled between, that I've since labeled: "Sisters separated at birth, reunited on the pampas."
Ombú is stunning, with big, old trees and a gracious 1880 colonial mansion where people relaxed on its wrap-around porch. Guests enjoy the tranquility amid hundreds of quiet hectares of green pasture where cattle or sheep graze. "They can pitch in with the stock-rearing activities," says Pato-just like at dude ranches in the States-"milking or driving cattle to harness, ear-tagging, and branding."
We drive another fifteen minutes and visit the equally pastoral La Bamba, which dates to 1830 when its Spanish colonial building was a post house on the Camino Real that joined Buenos Aires with the North of Argentina. I recognize La Bamaba's arcaded terra-cotta mansion from the 1984 movie Camila, which was filmed here. An acclaimed Oscar nominee, the film is based on a true story of an Argentine socialite in the 1800s, Camila O'Gorman, whose short intelligent life lasted only from 1828 to 1848. She was born into an aristocratic family of Irish, Spanish, and French blood. In those days, it was either the convent or marriage to a man of similar social and economic standing. But Camila defied those constraints. She read foreign literature (that a girl!) and valued love over forced marriage.
In the film, as in life, Camila falls for a man of the cloth, the Jesuit Ladislao Gutiérrez. It is she who boldly teaches him to rethink the rigid boundary between what is profane and sacred. Eventually, their prohibited love affair is discovered and they are condemned to die, without a trial. They are scapegoats of the church, state, and a calcified patriarchy. Camila fueled the scandal by rejecting the claims of her family that she was kidnapped and raped, asserting that the affair was her idea (as it seems it was). Camila and Ladislao were executed by firing squad. She was barely twenty years old, and eight months pregnant.
Camila is often the first reference cited by my dance partners upon hearing my name, which, as names go, happens to be associated with tragedy (my own current tragi-comedy aside): Greta Garbo's Camille, who dies beautifully of consumption as the gallant Robert Taylor watches, and Rodin's lover, Camille Claudel, an artist who was sent away to an insane asylum.
By the time I see Camila, here in Buenos Aires, I am so identified with the character that I am furious with Argentina for having this unspeakable crime of church and state. History gives me a tiny recompense in knowing that an eventual international uproar over Camila's execution contributed to the demise of then-dictator Juan Manuel de Rosas.
As Pato leads me toward her favorite parrilla, Rancho El Tata, which takes us twenty kilometers north (check) along Highway 8, I see how San Antonio might be likened to the patently quaint gold rush towns in California's Sierra foothills along Highway 49. Except those towns were born of a commerce that is now less influential than the tourism its romance nurtures-as gold mining has ground to a near halt.
Blessed with some of the world's richest grazing lands, Argentina still boasts beef as its prime industry, though other types of agriculture also flourish around San Antonio. Pato, who speaks as fluently with her hands as her voice, even while driving, urges me to turn my head to admire the landscape. "Look at these lush prairie lands! Look why Buenos Aires Province is the cradle of gaucho culture!" Her enthusiasm is as contagious as always. "The soil is deep, rich, so full of nutrients. You could eat it straight!"
We are driving through the humid pampas, a Quechua word for "plain." I can see tufts of the obstinate pampas grass that we try so hard to discourage in Northern California. Farther west will be the semiarid pampas, nearly featureless lowlands.
"About 70 percent of the cattle ranches around San Antonio have gone to crops-soy, wheat, corn," Pato laments. "They are proving about 40 percent more profitable than beef."
"That's good, no?" I question. "At least in the case of soy, which is better for soil than cattle. Right?" I start talking about how cattle is a protein machine in reverse; how it takes about five to ten pounds of soy to make one pound of beef. While I'm amazed at my own capacity to retrieve these facts that have been stored in my memory vault for twenty-plus years (I wrote a cookbook on tofu and other soy products for Rodale Press in 1983), Pato thinks my notions of soy are outdated. Unfortunately, the soy that has become Argentina's number one export is Roundup Ready soy, the Frankenstein of biotech agribusiness transnational Monsanto. Roundup Ready is genetically modified to include its own herbicide and has become a monoculture that depletes the soil and drives down the price of this legume. Environmentalists agree with Pato, that the expanding cultivation of this crop is at the expense of livestock-as well as traditional crops such as maize, wheat, cotton, lentils, and potatoes.
Pato looks at me with an edge of cynicism, catching me for the city slicker I am.
"Yeah," she says wistfully, "but the beef has history. . . ."
"You're sweet on meat," I say with a smile.
"It's what it does for the landscape, it's something deeper, unique here. . . ." she trails off.
"Cowboys are your weakness," I say, poking fun at her a little bit. But I stop when I see the look on her face. I realized, somewhat embarrassed, that I'm treading on her national identity.
The pampas are the sacred ground of legend, song, and culture of the gaucho. There is even a tango ballad to them, "Adiós Mis Pampas." They spread from the Atlantic to the Andes, stretching to Uruguay and Brazil. South America's "oceans of grass" conjure up a similar feeling in the psyche of Argentines as the western United States, with its red rock country and mesquite- and creosote-covered Sonora and Mohave Deserts, does in the psyche of Americans. Every Argentine schoolchild has read the epic 1873 poem "Martin Fierro," by José Hernández, a seminal work about the plight of the gaucho that's likened to El Cid, Song of Roland, and The Iliad.
"The Argentine cowboy roamed the open range working for cattle ranchers," says Pato. "He never owned land because he valued his independence. His spirit was so given to the wild-he owned the birds, grass, skies, leaves, the trees themselves!" I can tell by the way she's speaking that she doesn't hold my comment against me. Her love for the gaucho is earnest and true, and it moves me to a nostalgic space. I am seeing the landscape through Pato's eyes now.
Pato has earned her right to wax rhapsodic. She's had organic bonding with the pampas through her years with the man who broke horses. Ironically, born and bred in Buenos Aires, he longed for the rural life-and it must've been soul-deep because he since found another wife to share his love with him. Pato says that she loved living rustically on a ranch with no electricity early on in her life. "I'd spend two hours ironing his shirts, with their many pleats, and scarves. I loved it all. We raised three children-all boys-and hens, ducks, calves, sheep, and vegetables. We collected ten liters of milk a day. I made cheese, ice cream, and dulce de leche on a wood-burning stove."
Then, as the kids got older, she grew tired of being stranded when it rained and the road to and from their ranch became an impassible river of mud. She longed for movies, theater, and dancing. "He was happy with beef, bread, and maté," she tells me.
I ask Pato what she thinks about Gaucho Gil, one of the more cultish folk heroes born in Mercedes in the late nineteenth century in the province of Corrientes. I find him intriguing, but she screws up her face and dismisses him with, "No, no, he's not real." I gather she finds the mob hysteria his story incites distasteful.
Antonio Gil was an actual person who refused to be conscripted for a political fight in Corrientes between whites and people of color. He's the Argentine Robin Hood who went on the lam, robbing and-it is said-sharing with the poor until he was caught in 1875 and hung from a carob tree upside down and then beheaded. His "martyrdom" has inspired multitudes of pilgrims to journey every January 8 to the tree in Corrientes where he was strung up. They petition their folk saint for favors from better health to a job. Anecdotal miracles abound-from people who got the health, got the job. Gauchito Gil has the respect of the Catholic Church-and of numerous vendors who survive today, selling Gil mementos from T-shirts and medallions to mugs and plaster images. More than 100,000 believers attend the annual festivities in his honor. They camp out, build candle-lit altars to Gil, and dance the chamame, a folk dance, all with an al fresco euphoria that recalls the nonsecular fervor of the annual Burning Man in Nevada's Black Rock Desert.
We reach Rancho El Tata, an undistinguished structure set back from the two-lane highway on a thick lawn with outdoor seating for warm weather. Pato stops at every table to hug or chat with friends, introducing me as her American friend. She presents me to Iris, the petit, pretty unprepossessing owner, who kisses us both. We sit on the heated, plastic-enclosed terrace in view of the open brick parrilla. Although the barbecue looks industrial in strength, it resembles those in the homes of many Argentine families for whom asado is an indispensable weekly ritual, often on Sundays.
A cook emerges with his long tongs in hand to add wood fuel to the barbecue from a nearby stockpile. I watch as he tends to the sizzling meat, momentarily thrilled to observe the red-hot embers flare up with an occasional flame. I recognize the slabs of beef and ribs, but the chichulines (or chitlins), the offal (or intestines) of a calf, are a new delicacy. I do not try them, but I do eat heartily from every other grass-fed part Iris lays before us. This is my first parrilla and I'm not disappointed.
Pato expresses gusto with a passion that adds its own flavor. "I love my morcilla," she moans, stabbing the blood pudding in its casing with her fork. I do the same and try not to think of "cooked animal blood," or about how horrified my numerous vegetarian friends back home might be.
We partake of tender lomo (sirloin) on a brochette, and what the Argentine's call bife chorizo (just to confuse foreigners, I've decided), the best cut of meat closest to the bone on the side of the cow's back. It's tastier than any beef I've ever eaten, with a pleasant hint of game, the kind I love in venison. I keep taking generous tastes of a pale meat, like veal, but a thicker cut that's moister and sweet. When I ask Pato what it is, she tells me it's a gland.
"Thymus, or is it marrow?" I ask.
"Molleja," she says, a little too tentatively.
"Point to this gland," I say suspiciously.
She points to her skull.
"I'm eating brains!" The look of disbelief brings a smile to her face. Which makes them taste even better.
I always thought brains would be fluid, something that could leak out of your ears, I tell her, as I cut off another big slice of the gray matter with bravado. I can see she approves and perhaps foresees a day when we'll regularly sit side by side, she eating her cooked animal blood and I, my grilled brains.
We also eat Iris's signature meat empanadas, lightly sweet, almost Mediterranean spiced, in crispy fried dough. (This is one of two types of empanada crust; the other is a puff pastry dough called hojaldre.) We top off our meal with espresso and a delicious bread pudding dessert in a coulis of burnt sugar.
"Sharing this juicy red meat gives new meaning to 'blood sisters,'" I tell Pato.
"You like it?"
"Sí, sí. It's enough to stave off iron-deficiency for the rest of my life."
"Come, mi hermana de sangre, I'll show you more gauchesco culture. That'll make a meat lover out of you."
We drive back to town, a quiet interlude, perhaps due to being comatosely stuffed. We rest at Pato's little cottage, where she lives with her sons, border collie, cat, and garden. She has painted one wall in the living room sangria red, a color that suits her personality. She is wearing the same color top with her black leather, knee-high riding boots. I shoot a lovely photo of her slim figure against the wall.
We sit in front of the fireplace and look at Los Gauchos, by Aldo Sessa, a hefty coffeetable book whose photos are romantically cast with pancho-clad gauchos strumming guitars atop horses amid much golden light pouring down on the pampas or around glowing fires. One gaucho picks his teeth with a silver dagger. There are more graphic photos, too-a whole skinned cow being carved; a group of gauchos with sharp knives pinning down a horse with blood and cartilage flying.
"Why are they amputating that horse's leg?" I ask in disgust.
"Querida, that is a gelding-they are castrating him."
But of course.
"Never mind that," she tells me as if humoring a child. "Look at this photo of my clients from Kansas a few months ago. It's taken at the gaucho museum." The men in the photo are gorgeous. They have that polished all-American look that I like but that never matches up with men I have anything in common with.
"I'll take the dark one," I laugh, pointing to the Rock Hudson lookalike.
She likes the blond one (think Steve McQueen). "But we can bloody forget it. They're all gay."
I hold the photo to my breast and recite, "Why can't I quit you?"
"Eh?" Pato questions, looking at me with raised eyebrows.
"It's a line from Brokeback Mountain," I tell her. "You know? About two gay cowboys who fall in love."
Pato recalls the movie but moves along without much recognition for something that's still funny to me. She continues to stare at the photo, perhaps wondering if these men might be married back home, indulging in a gay tryst down in Argentina where no one would be any wiser.
Down here the Argentine gauchos stroll around in their soft, billowy clothing, further blurring the fixed ideas of how a macho man should present himself. Bombachas, the name for their loose white pantaloon, is also the word for women's undies. Their unabashedly feminine esthetic allowed the early gauchos to embroider their shirts and pants with delicate French lace. They wore colorful, flowing hand-woven panchos and headscarves that looked like babushkas tied under their chins and around their necks. They cinched their waist sensually with a wide pigskin belt. On their feet they wore almost-dainty slipperlike horse-skin boots made by removing the animal's hide from its leg in one piece. Their saddles, underlain by several pliable layers of woven textiles, are still made of pillow-soft carpincho leather, the suede-like hide of a water pig. The gauchos carry no guns. Their only weapon, the knife, is a tool of work and survival (and teeth-cleaning). In turn-of-the-century gaucho portraits by Cesáreo Bernaldo de Quirós I've seen at Buenos Aires's Museum of Fine Arts, the gaucho is depicted as darkly handsome, with Moorish features. He stands in sharp contrast to Clint Eastwood with his WASPish good looks.
The gaucho's paraphernalia would be considered too effeminate for the likes of the Wild West cowboy, whose signature pose, perhaps branded too indelibly in my mind by the hot iron of myth, is an isosceles triangle. His denim-clad legs form the sides, spread eagle on a base of dirt. The negative space, always a distant long shot, is pregnant with the pending duel. The vortex is his tightly packed crotch fittingly on a plane with his hip-slung holster holding his two extended "penises" ever ready to discharge and kill.
Gauchos didn't dance tango in the 1920s, but that didn't stop Hollywood from dressing Rudolph Valentino in chaps and bombachas to perform the dance in The Four Horsemen of the Apocalypse in 1921. Tango fever was not only turned up a few notches worldwide after the release of that film, but the luxurious scene on the pampas ("The Scent of a Cowboy," it might have been titled if it were released today) solidified the anachronism, generating even more movies with tango-dancing gauchos.
However, the gauchos who were naturally given to song and dance have influenced tango's evolution, most notably with their zapateo, percussive footwork, including the repique, a move that involves striking the floor with a spurred heel, which shows up in the steps of the leaders as taconeos. The leader digs the floor with his heels to the beat of the music. The leader's and follower's fast-twitch adornos would seem to stem from the gaucho's floreos, rapid decorative movements.
The evening following the parrilla, I sit mesmerized for four hours as I observe the gaucho influence in villager's feet as they dance folklórico at La Peña (the town's community center). Despite too much smoke and consumption of beer, wine, empanadas, and pastelitas, I manage to keep focused on one man with charcoal black hair, sculpted beard, sideburns, and chiseled features. He could be right off the pages of Pato's Los Gauchos. He wears fluid black pantalónes, a belt laden with silver coins, a vest, bolero, kerchief, beret, and boots. His feet are more limber than Michael Jackson's, his soles grazing the floor, his ankles pliable as rubber as his foot bends at a 90-degree angle to the leg.
The festival is delightful and reminiscent of my big family gatherings that we'd host in Italian halls when I was young (where the tarantella was the line dance du jour). Parents, grandparents, courting couples, and children of all ages line up to do the folklórico dances, which involved much posturing and pantomiming.
I find the folklórico dances life-affirming. The best-known one in Argentina, the chacarera, done at milongas, always hits my tribal nerve as men and women collectively act out eternal rites of flirting and gallantry. The men stomp in sync with each other. The walls tremble, and so do I, as I feel the depth of time. The dancers are no longer men in suits or women in cocktail tango dresses; they morph into couples on the pampas in the old west of Argentina right before my eyes, and I'm swept up by the romanticism of the moment.
Pato tells me about the other folk dances that enjoy staying power, or which have witnessed a comeback. They include the zamba (whereby men and women circle each other waving white handkerchiefs); the Chilean cueca (which mimics the courting ritual of a rooster and hen); huella (a minuet-like dance with fingers miming the playing of castanets); chamame (cheek to cheek); triunfo (a provincial country dance big during the "triumph" of independence circa 1816); and the valscecito (a country waltz). As we head back to El Balcón, I think of a few people I've already met who dance folklore but who don't like tango-perhaps for its intense embrace, the proximity of another. For them all these dances are custom-made.
The following day, Pato and I cross the historic Martínez Bridge that separates the village from the Museum of the Gaucho, a collection of buildings on ninety serene hectares. The complex incorporates the original pulpería, called La Blanqueada, which is more than 150 years old. Its publike interior is staged with lifelike wax figures of gauchos in full regalia, sitting at tables and sipping a maté. The museum was built in 1938 to honor Ricardo Güiraldes, author of Don Segundo Sombra, a popular work-which sometimes paints the gaucho as a noble savage-that's been translated into twenty-six languages. Güiraldes, a writer, poet, and high-society playboy with F. Scott Fitzgerald flair, is as much the protagonist here as the gaucho. He hobnobbed with artists and writers, like Borges.
"Look, Pato" I point to a sketch of his well-cut naked torso.
"Don't salivate," she says.
"¡Qué potro!" ("What a hunk!") I say, proud to have the opportunity to use this newly learned slang word. Excerpts from Güiraldes's works appear excessively around town on everything from menus to tree stumps. Mingling discreetly with tango's compadritos, Güiraldes is said to have helped spread tango to Europe, where he visited in 1910. He portrays an outmoded vision of tango, with this unflattering reference to women-and men: "The all-absorbing love of a tyrant, jealously guarding his dominion, over women who have surrendered submissively, like obedient beasts."
Soon it's time to part. I'm due back at the bus station, and Pato and I have to say our goodbyes, which last for a good twenty minutes as we enumerate many plans for the future, here and back in Buenos Aires. We've packed so much into a short weekend-sightseeing, gauchos, folklórico, parrilla, not to mention the start of a treasured friendship with a woman who, like me, can be swept away by the sudden romanticism of a moment. And to think I almost let those loving jolts go unnoticed in the dance hall, clinging to a fixed idea of tango requirements. Never, ever, cling to fixed ideas on anything, my Zen teachers have told me over and over. I think about all of this as I watch two young gauchos in clean white pleated shirts and red berets clomp by on their horse.