Hi Camille,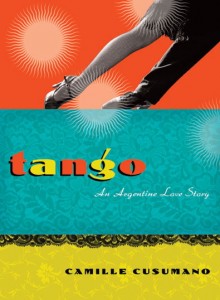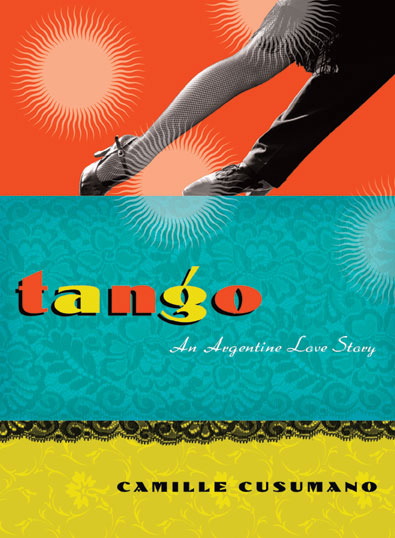 What you are giving me is courage to attend milongas because you say that you get so much from the milonga dancing. I'm milonga phobic, but I'm going to try one tonight. Your story touched my heart. Thanks for sharing. I hope you are currently experiencing much beautiful Tango, joy, pleasure,and love.
Your book delighted me and validated my feelings about Buenos Aires and Tango. I thank you for the beautiful quotes and descriptions of the dance and the country. I am 80 years old and started Tango 3 years ago and I'm in love with the dance. Thanks again for your excellent and compelling book. Norma
Hello Camille.
Just finished savoring your book. I know, got it from you at Valentango, but before I had a chance to read it, two of my women friends borrowed it to read and of was hard to get back.Finally I got it back last month and (yes I read slowly) as I said I savored every word. You are a beautiful, insightful, funny wordsmith.
I guess that should have been obvious.
Thanks for sharing yourself with all of us, maestra!
xoBen
Hi Camille, You have inspired me. I'm a middle aged guy who loves to dance but I had never paid attention to Tango.
I saw your clip on youtube. I'm reading your blog.
Now I understand.
I take my second AT lesson tomorrow. Perhaps I'll get to dance with you some day.
Aloha from Hawaii
Dear Camille,
Thank you for the trip to Argentina. It has been on my radar for a few years, but you have sealed the deal. You're a very open and honest writer. And, someone with whom I felt an instant connection with, which is why I read your book as quickly as I did. I identify with your quest and applaud the willingness with which you avail yourself to new experiences.
May life bring you more fruitful journeys,
Alex
Camille, I loved your videos on tango! I am also a tango dancer since 1992. I've been to Buenos Aires once and wrote a travel piece on tango.
I Really Love Reading Your Blog. Excellent. Keep up the great work!
Hola Camille, que bueno visitar tu página.
No imaginaba que eras tan buena bailarina de tango, pero creo que…., después de haber visto el video, lo más lindo es que tu rostro refleja el sentimiento de que "El tango se siente con el corazón" Adriana
Many thanks for sharing your love, passion and expertise in the Argentine Tango. It's a lovely dance that you execute so well.
Cordially,
Richard
I went home after a political fundraiser and starting reading TANGO. It's fabulous. Love the part where you went to the shrink because you couldn't write after working all day as an editor. I resemble that remark. PJ
Thank you so much for writing about a place I've never been, but hope to see one day.
I live in Ashland, Oregon. We danced a tanda in Portland when you came to promote your book, which I hadn't read yet, or we would have had a more interesting chat between songs. (I went to SF in 1965 from Massachusetts and went straight to the SF Zen Center where Shunryu Suzuki was lecturing, "You think you small mind. Ha ha ha. You not small mind. Ha ha ha ha. You big mind. Ha.")
I 'm sure you know that your readership is much greater than your book sales.
Peter
Dear Camille,
Thanks for all the inspiration All the best from here ıstanbul. Ipek
I've really enjoyed reading about a dozen different parts of your website which i entered via red room from sending a message to T Clarke.We have many parallel paths, thoughts, experiences that I wonder that we haven't met at a milonga. My wife and I want to dance, but her work is exhausting her these days, and we're building a new house in little Dunsmuir. So soon my opportunities for Milonga and Iaido will fade and my flyrod will come into more frequent use. Thank you for your writing. David
Hi,
I just found your book yesterday while in Borders's on Post st. I also live in San Francisco and am leaving to Buenos Aires for a month by myself. Amazingly, its for the reason of getting over a relationship, and to find myself again. I don't know anyone there, but I have always wanted to go there. So..I was amazed to have stumbled upon your book! I'm so glad that I found you, or maybe you found me..? Anyway, THANK YOU for writing this book. I feel even more so that this trip is meant to be.
"soy la diosa de esta jodida galaxia!"
Perfecto
Kalia
You are in great shape and very attractive. Much better than I imagined after reading your book. Keep it up.
Al
I watched your video on the Tango.. You look great and sound great.
Love you! Tommy L.
Dear Camille,
An author who can help me tie together healthy food, yoga,travel,culture and dance???!!! I'm about to be your biggest fan and you are about to become my catalyst. ok that sounded "stalk-y"….
I want to /need to, must weave the separate threads of my life into a beautiful ,richly textured piece of art.
This is how you live and write! beautiful!
Nam Myoho Renge Kyo,
Diana
What a wonderful connection you will be sharing with readers: the present moment, communion with another soul, letting go, passion, strength and femininity. I am very excited for your book! Photography and Tango are my passions! Tara
"Holy Moly!", I said to myself, both when I saw your tango documentary and read all your credits. This is one woman whom I must meet! I live just outside of Little Rock, Arkansas and am madly in love with Argentine Tango.
All my best~
Paula B
Camille – BEAUTIFUL & Fantatastico! Tango forever – .. Would enjoy seeing you dance in person!!! Judy and Ted
You have a cool web site. I'm interested in the spiritual side of tango, also. Not a zen guy, but I do meditate.
I like your tango precepts.
1. Just show up.
2. Accept what's offered.
3. Remain present.
4. Be kind and compassionate to Sself and Other.
Great stuff. But you have yet to grasp the esssential nature of the Self, grasshopper.
Ramiro
Hi, Camille.
I finished Tango last night and enjoyed it a lot. . . I giggled most at your comment about "that dumb New Jersey joke" and, towards the end of the book, you used the word "corny." Those everyday American terms brought your Zen, BA, world-dashing, and sparkles book persona down to earth for me and somehow reminded me most of the impression I had and have held of you since our time together at the Zen Center. I giggled for hours about that "dumb" New Jersey joke. When I saw it, I put the book down and phoned a friend in the city (I now live in Sonoma) who is from New Jersey (Demarest, Dumont) and asked if he'd heard the joke. He hadn't but he got it a lot faster than I. I had to think a while to figure out just what it meant. The one spoken to, not a sandwich eater, ate shit nonetheless. Duh.
Larry
Dear Camille,
I just finished reading your tango book, courtesy of Chris D, and loved it! I felt transported right back to San Telmo where our Helena, MT crew spent 3 weeks this past summer. It was delightful reading about all the places I had been. We both grew up in NJ, and have an Italian heritage, so I could relate to so much of what you wrote. Thanks for the wonderful vacation!
linda a
Camille,
Since tango is danced from the heart, it will be an honor to initiate your vision of sending an international chain of tango embraces and a transcendence toward inner peace initiating from the Belrose Milonga to President Obama on Inauguration Day. Peace – Jonathan and Olivia
you go, girl.
Luanna
Hi Camille, have a great time in argentina . . . stay as inspired as your website looks! the video is great!
mary wings
Hi Camille,We met at your book signing .I read your book and found it very interesting and engaging. I was especially interested in your connections between your Zen practice and the dance. For me it is a yoga connection. A two person meditation. Anyway, see you there, or here.
Lovely meeting you.
E
Hi there! I'm on page 110 of your book Tango: An Argentine Love Story, and I'm loving every minute of it. I'm actually a student, and I'm studying abroad in Buenos Aires from February until July. I see so many parallels in our lives, it's uncanny! I'm also a yoga devotee who's just had a break up. Mine was not as deeply felt as yours was (it was a relationship of only a few months), but I identify with you so much. I was wondering if you have any recommendations of things to do or people to meet while I'm down there. I'd greatly appreciate it. Thanks for documenting your journey and growth. It's been such a help to me!
Camille
Hola Camille: You don't leave anything out do you! ??
The book is a chapter for your autobiography, you write like a travel writer except that the places you visit and find interesting are both in your head and in the people around you.
Jerry
Dear Camille,
I have just finished your book, and started reading it again. My husband, Jack, and I are in Bariloche now, returning to Buenos Aires on Friday. We learned of your book, on Ronn Owens' show (on KGO radio) just before Christmas when Elaine Petrocelli of Book Passage was his guest. I love your book, and have written notes, and will now write more. I intend to share info about it (I'm keeping my copy) with our Tango dancing friends.
You have really added to our trip. Thank you.
Nancy
Hi Camille:
Greetings from a fellow San Franciscan!
Your book, "Tango: An Argentine Love Story" nursed me through a bout of flu late last year and inspired me to take my first tango class recently. Had always been curious, ever since I saw Sally Potter's "The Tango Lesson" in 1998. As a practitoner of Tao (and someone who has trained in qigong for over 10 years), I took your Zen wisdom with me as I hit the floor for the first time. Tango IS about stillness, as you have said. I found that, even as a novice, if I was quiet, I could find all the tools I needed to help me along– the music, my partner, my breath, my silent mind. It was a joyous experience– and continues to be. Thank you for your witty wisdom and for being such an enjoyable guide to the barrios and byways of Buenos Aires! Am wishing you warm blessings and many, MANY decades of tango bliss! Kind regards– Dana :- )
June 22 09 – Linda
Hi Camille,
I am Cindy's friend(we've met) and just finished your wonderful book. I had to tell you how much I enjoyed it and the similarities in our lives. I share the same Italian heritage, zen buddish practice and addiciton to Tango!
I read your book during a phase of accelerated growth in my tango and your book spurred me on each night.
Bravo and I loved that you could say "te amo Oscar" and that was enough. No complications, just the dance!
Ciao bella,
Linda
From Greg
" 'm almost finished reading your book. I really like how you created such an engaging journey and wove a tapestry of your friends into your story. I was tickled to read my cameo. I'm honored to be included and yes, "I approve this message" as we hear the political candidates proclaiming."