Since October, 2011, I've been teaching tango at La Pista dance studio in San Francisco. I teach on Wednesdays with Tom Lewis, the owner and architect of this amazing salon. Mila Salazar, the beautiful dancer seen en apilado with Jesse, below, had been teaching with Tom but she is now gearing up to start a brand new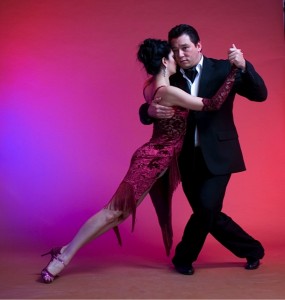 beginner's tango class on Monday nights. She also helps out with many tasks of running a tango dance school.
You will not find another dance salon like La Pista.
Its owner, Tom Lewis, is in the restoration business and that restorative knack of his seems to overflow into his passion for Argentine tango. A nurturing air of calm and tranquility pervades La pista's two levels, including the top floor where Tom's business offices line the front of the building. The warmth and generosity of its designer and architect pervade La Pista in the scarlet walls hung with many evocative photos and paintings of tango performers in pose. It's not too far afield to say that La Pista is a refuge, a sanctuary, even a temple to the art of dance in all its glorious benefits to mind, body, soul.
Thanks largely to Tom, La Pista attracts the best tango dancers from around the world. I'll admit to a possible lack of impartiality when I say that San Francisco has the best Argentine tango community outside of Buenos Aires.  Buenos Aires beats us in sheer numbers and density of crowds, teachers, and all the accoutrements that tango brings.  But SF, being SF, has an air of freedom, mutual support, and great local teachers—a combination found nowhere else that I know of.
Drop by for a class:
Tango for Beginners – with Tom Lewis & Camille Cusumano, La Pista, 766 Brannan St. SF, Wednesdays, 7:30 to 8:30 pm, with practice time afterward. $10.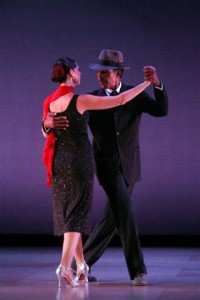 Starting Friday, February 3, 2012, Beginning Tango class, 7 to 8 p.m. withe Camille. – $10.
Starting late February, 2012, Beginning Tango class, Monday nights with Mila Salazar – TBA.
Starting January 27, 2012, every last Friday is La Milonguita, beginner's milonga, open to all tangueros.
Note on shoes: The best shoes to wear are soft-soled, slippery – like suede or leather. Nothing synthetic that is non-slip. I am going to start bringing old (clean) socks to class for anyone who doesn't want to buy special shoes – that's a trick I learned in Buenos Aires that will work, too. You slip the socks OVER your shoes.