Finally, I've posted some recipes from her cookbook—which is hot off the press ready to be distributed to her kinfolk and close friends.
This is at her table in Annapolis, MD. One Saturday, four of us kids (Jim, Terry, Grace, moi) dropped in and as we sat on her patio she cooked up lunch, below, for us. She served us Cusumano white wine, a Sicilian label that shares our name, but is no relation. Let me add that their reds are better than their whites.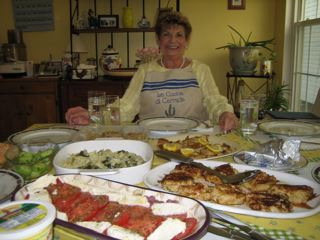 I'm in the process of helping my Mom publish her recipes into a collection we'll call La Cucina di Carmela.
Here's a teaser recipe from the book, cannoli. Stay tuned for others—tiramisu, stuffed artichokes, stuffed mushrooms, many Italian cookies.
Omar, Mom says, no hard feelings, too, you stop by anytime and she'll make you eat. That is exactly what she'll do, make you eat. Or else.
Mom's book promises to be full of the kind of food that makes for great tango dancers!