(Original article in the Christian Science Monitor.)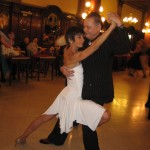 I plan a trip to Paris, a city I love. It's not the Louvre or the Left Bank, though, that draws me back this time, but a dance. I shoot off an e-mail to tango teacher Jean-Sébastien Rampazzi and hold my breath until he replies: "Yes, I can see you for a private lesson at la Casa del Tango."
I plan a visit to my mother in Annapolis, Md., strategically timed around a lesson with maestro Andrew Conway. His Philadelphia neighborhood is not the stuff of tourism brochures, but his studio is the hallowed ground of my waking dreams. He hits the CD player's on button, and the violins cry, the bandoneon (concertina) whines. I lean my body gently into his as his girlfriend and my mother watch, and we travel to a place we both know.
According to Robert Farris Thompson, author of "Tango," there is a name for someone like me – a milonguera, or someone who organizes her life around dancing tango.
Years ago, it was my love of romance languages – French, Spanish, and Italian – that charted my world travels. Now it is Argentine tango, a fluid, improvisational series of steps not to be confused with ballroom's American tango.
Because of its lexicon of moves, I rush to corners of the world to "speak" with my body. On my way to Prague to see my brother, I surf the Net to locate the milongas (tango salons).
I pout when a business trip to Reno falls on "dark" nights – no tango for miles. But one to Santa Barbara falls conveniently on an evening when the Café Buenos Aires on State Street features a live tango orchestra.
As I finish my squid, owner Walley Ronchietto sees my real hunger. He lines up four partners for me to dance with on the al fresco terrace.
Beginner legs can easily become conversant in tango's vocabulary. "All you need to learn to start are the camminada (walking), ochos (figure eights), and molinetes (windmills)," says veteran teacher Christy Cote.
But beware the passion that persuades you to turn a more and more complex tango phrase with perfect strangers.
In the two years since the bug bit me, I have stepped across miles of wooden floors polished by thousands of suede soles. Each three-minute dance is an ephemeral conversation, a trip around the world.
Once my tools of travel were practical ones – AAA maps and TourBooks, a Paris Metro plan, and maybe a Michelin Guide. Now, the first implements I pack are four-inch spike heels, which I purchased on my 2005 pilgrimage to tango mecca Buenos Aires.
Once my feet ached to intimately know the world's great mountains and walks – Kauai's Kalalau Trail, New Zealand's Routeburn Track, the Sierras' Mount Whitney and John Muir Trail. And I indulged them.
Now they beg for a new platform – stiletto heels. These pumps take their place in my closet next to my hiking boots. Using each makes me feel I've accomplished something special.
A few weeks ago in San Francisco, I danced on a Thursday with Jorge from Buenos Aires, on Friday with Jens from Amsterdam, and on Saturday with Robert from Tampa. All were passing through on business. Only Robert spoke English as a first language, but for three minutes, we made each other the central protagonists in a spontaneous short story.
"I found the answers to all of life's lessons in the arms of a total stranger," writes Johanna Siegmann in "The Tao of Tango." "The very first time I was held in a tango embrace, my life was transformed."
I have not experienced Ms. Siegmann's sudden epiphany and cannot mark the moment when I was lost to this dance. Rather, I have felt a persistent desire to speak tango more fluently.
Not surprisingly, this devotion followed some 15 years of Zen meditation. The two disciplines are not disparate – both require the surrender of ego.
"Tango is timeless and placeless," says Patricia Thaxter, operator of Infusions Travel. Ms. Thaxter, who leads tango aficionados of all levels around the world to milongas, classes, and festivals as far away as New Zealand and Taiwan, combined her love of the dance and travel after she was laid off from her research job two years ago. She spent months exploring the dance floors in Europe.
"Germans, French, Italians love tango," she says. "In Hungary, I realized that the person I danced with was talking to me through the dance he learned in Budapest and that I learned in Sacramento. It is the universality of tango and travel that makes them so natural to combine."
In Buenos Aires's La Boca neighborhood, I met an artist, Guillermo Alio, who creates fantastic tableaux with his feet. He and his partner dip the soles of their shoes in paint and dance tango upon his canvas.
Often called a "sad feeling that is danced," tango has always ignited the imagination. Its music "reveals a personal past which, until then, each of us was unaware of, moving us to lament misfortunes we never suffered and wrongs we did not commit," wrote Jorge Luis Borges.
So maybe I don't sound so crazy when I tell you that when I move to tango, time stops, but I really go places.